Articles FAQ

Stable version: 1.4.3 | Latest version forJoomla 3: 1.3.2
Last updated: June 7th, 2023

Articles FAQ Module show articles of Joomla in accordion format.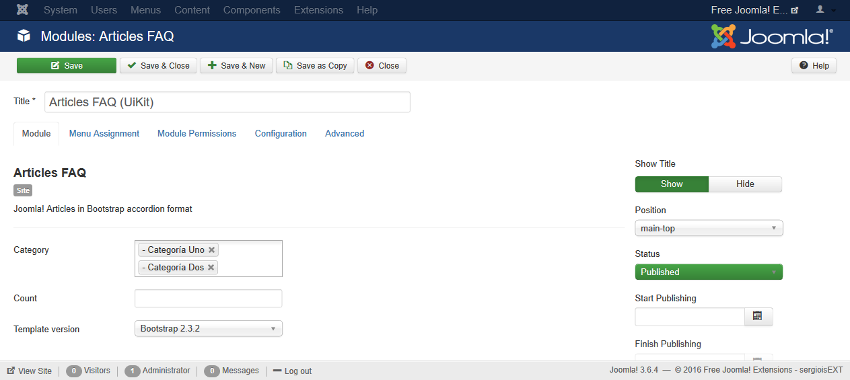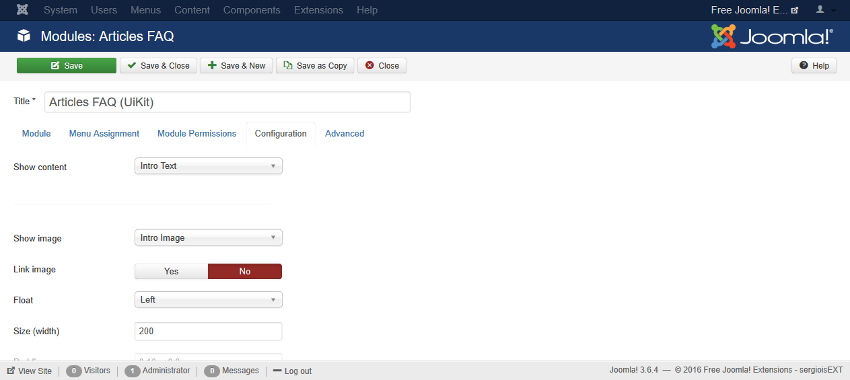 Installation and usage
Install the module using Joomla! Extension Manager.
You can configure the module with the following options:
Select Articles from a specific Category or a set of Categories. If no selection will show all categories as default.
Select number of articles to shown.
Select frontend framework.
Show or hide content (introtext, fulltext or a part of content).
Show or hide image of articles and if you want it to have a link.
Image style configuration: float, width and padding.
Show or hide button of "Read more" and the text of de button.
Ordering articles by Pubish date, Title, Hits or Randomly.
Ordering articles by Order of articles.
Select Articles from a specific Tag or a set of Tags.
Search option.
Open article in modal option (popup) and new window.
Search option
Multi-column option
Download
For Joomla 3
If you're still on Joomla 3, don't upgrade to the latest version. Here is the link for Joomla 3.
If you have already upgraded, download this version:
---
Donate
All received donations will be used on open source development.
The price of a cup of coffe is all we need.
Donate

5€